This article contains information that is helpful for Headway providers. If you are a client and have questions, check out our support articles for clients!
We recently rolled out some exciting changes to the Sigmund calendar! Add multiple sets of workings hours to each day on your calendar to offer more flexible availability to new clients. Our article about switching over to the new calendar can walk you through the changes!
How do I manage my calendar availability?
Set your weekly working hours in Sigmund (the provider portal) so new clients can book with you. We'll display availability for new client bookings around your schedule.
Providers with a range of working hours (ex. MWF 9-6 ,TT 10-5) are 4x more likely to receive a referral.
You can always adjust your working hours by clicking "Edit" and entering your new Start/End time. You can also turn off availability for new bookings on specific day(s) by turning off the "Available for booking" toggle.
If you haven't already done so, be sure to sync your external calendar(s). Headway will automatically remove availability that conflicts with your external events so you won't be double-booked.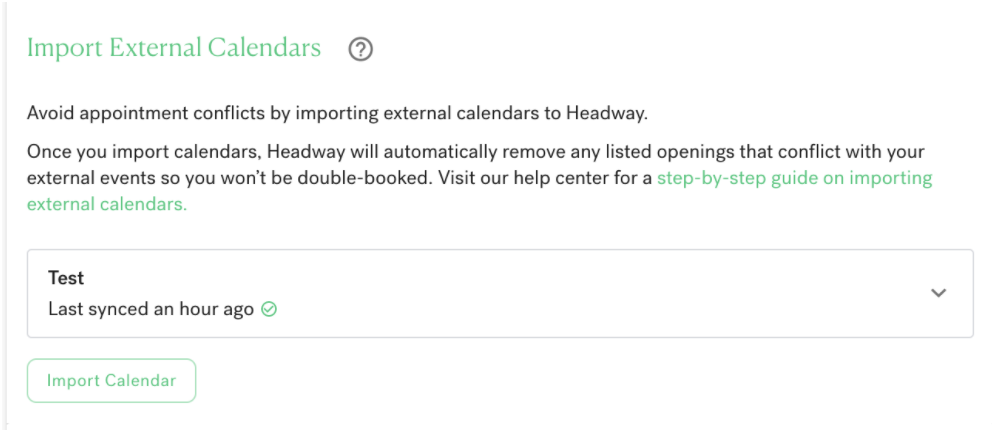 Aside from the unavailable hours we will automatically pull from your external calendar(s), you can also set specific unavailable hours directly in your Headway calendar. Click "Add," then select "Unavailability." From there, you can input the details of your unavailable time slot.

How do I add openings to my calendar?
We base your openings around what hours you generally work—i.e. the earliest and latest each day you'd be able to see a client. Set your working hours to add openings to your calendar!
Please note that the "add opening" option is no longer available because it is now automatically added when you edit your working hours. You are able to add "Unavailable" slots during any of those open blocks and manually edit the open hours that way.
How do I add appointments to my calendar?
From your calendar page:
Click "Add" in the top left.
Choose from session, phone consultation, or opening. You'll be able to enter the relevant details right in that window.
Click "Schedule" to put the session on your calendar. The client will receive an email update.
You'll be able to schedule an event with anyone who has contacted you through Headway or who you've added to your portal.